MRI Scan Revealed That Knicks' Carmelo Anthony Has Torn Labrum on his Left Shoulder
New York Knicks' star player Carmelo Anthony will have his left shoulder re-examined in the next few weeks after the MRI scan revealed that he had torn labrum. Anthony will rest in the coming weeks in hopes that the shoulder injury will heal on its own before the doctors re-evaluate.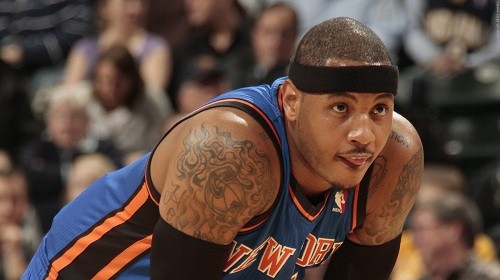 (Image courtesy of NBA.com)
"I don't think it's any major damage. But we'll see. We'll find that out shortly," Anthony said. "It was bothering me since it happened," Anthony said. "To be able to play with that and get through the pain, it just came to a point where you just try not to think about it. That's where I was at mentally."
Anthony' shoulder 'popped in and out' during the NBA playoffs series against Boston, but he continued to play with a protective sleeve to keep his shoulder in place. He played a total of 12 playoff games with his injured shoulder. Now, after the Indiana Pacers knocked the New York Knicks out of the Playoffs, Anthony, and few other Knicks' players can focus on their recovery and preparation for the next season.
"At some point soon, I would expect that Anthony will show signs of recovery. But, if future MRI scans or MR arthrograms show that he needs a shoulder surgery, than he may be sidelined for three to five months.", said Dr. Armin Tehrany, Assistant Clinical Professor of Orthopedic Surgery at the Mount Sinai School of Medicine in New York and MOC Orthopedic Surgeon